200KTA PGA technology licensing contract confirmed
Release date:2021-11-11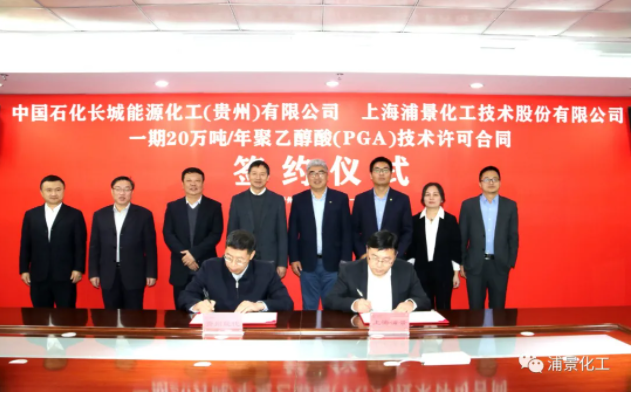 On November 10, 2021, the signing ceremony of 200kta polyglycolic acid (PGA) technology licensing contract between Pujing Chemical Industry Co., Ltd. (hereinafter referred to as "PJCHEM") and Sinopec Great Wall Energy Chemical (Guizhou) Co.,Ltd. (hereinafter referred to as "SGECC") was held in Guiyang. Mr Zhu Shen, Chairman and General Manager of PJCHEM, Mr Zhang Zhengjun, Chairman, Secretary of the Party Committee and General Manager of SGECC, as well as other leaders from both companies attended the signing ceremony.

At the signing ceremony, a unified opinion was reached on the promotion and implementation of the project by both parties. Both parties agreed to cooperate and support each other during PGA project implementation, and make all effort to promote the construction process. The implemented PGA project will response positively to the important instruction by General Secretary Xi Jinping in Yulin, Shaanxi, " The comprehensive utilization efficiency of coal as a chemical raw material should be improved, and the high-end, diversified and low-carbon development of coal chemical industry should be promoted."

The 200KTA PGA license contract signing between PJCHEM and SGECC is of great significance to the promotion of new coal-based degradable materials. PJCHEM will contribute more technical strength into the project, and shoulder the responsibility together with SGECC to implement the important instructions of General Secretary Xi Jinping on coal chemical industry into the actual engineering construction of the PGA project.